Meet Our Donors
Marilyn Schoon and Bill Wortley – 66 years of volunteering!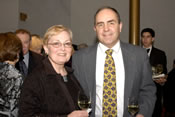 Marilyn Schoon and Bill Wortley love the Kennedy Center so much that between them they have volunteered at the Center for total of 66 years! Marilyn started in 1972, only a year after the Kennedy Center opened. A few years later, she met Bill at the Alexandria roller rink! Marilyn introduced the Kennedy Center to Bill, who had recently moved from California. Bill has been volunteering ever since.
Marilyn is a retired English and drama teacher. She took advantage of the many teacher training sessions offered by the Kennedy Center. She particularly remembers one thrilling session with Carol Channing who said, "Every night is the first time… If I didn't get butterflies in my stomach before each performance, I'd stop." Marilyn enthuses "What better way to reassure the kids who suffer stage fright than to tell them Carol Channing gets it EVERY time!" Bill is a safety manager for the military. Given his expertise, the Kennedy Center has been very fortunate that he takes charge of all the many volunteers who work crowd control for the large events such as Open House which welcomes tens of thousands of visitors for a full day of free performances each year.
Marilyn and Bill travel all over the world to see performances, but they always come back to the Kennedy Center. Not only do they drive 90 miles each way from their new home in WV to volunteer but they have also included the Center in their will. "Both of us feel very strongly about arts and the Kennedy Center and that's why we make the commitment we do."