Meet Our Donors
Gail and Robert Wilensky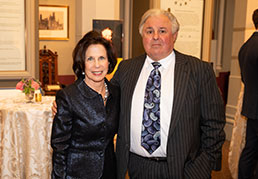 Every Sunday, Gail Wilensky listens to The Barber of Seville, The Marriage of Figaro, or The Pearl Fishers, "without fail." It's a ritual that reflects a life enriched by love, family, and the arts.
Gail and her husband Robert, both Michigan natives, met in Ann Arbor as undergraduates at the University of Michigan. Both joked that they were there "on the ten-year plan," and both followed their educations through to the doctorate level: Gail holds a Ph.D in Economics, and Robert, an M.D.
After bouncing back and forth between Maryland and Michigan, the Wilenskys, with two small children in tow, made their move to the east coast permanent and settled in Washington. Robert set up his own plastic surgery practice and Gail was working in health economics in the public sector, leaving little time for the family to enjoy extra-curriculars. Once the kids were grown and off to college, however, Robert and Gail signed up for subscriptions to both the National Symphony Orchestra and Washington National Opera.
Music had been part of both Robert's and Gail's lives when they were children—she took piano lessons and he played violin in the high school orchestra—and both have fond memories of experiencing professional performances. Robert's parents would take him to the symphony, and Gail's mother, dedicated to providing "proper culture for a young lady," took her to see her first opera at sixteen when the Met visited Detroit with Aida. She also credits several college classes with teaching her about the technical construction of opera and the history of the art form.
It was no surprise, then, that the Wilenskys chose to leave major bequests in their will to both the NSO and WNO. "If I had to identify the things that give me the most pleasure in life, aside from my children and grandchildren, and traveling, it's the arts," says Gail, who's seen opera performed in Russia, Germany, Hungary, Italy, the United Kingdom, and Mongolia.
The Wilenskys express concern for the future of the performing arts. "I'm worried," sighs Robert, "looking around the audience, there are few young faces in the crowd." "That's why we wanted a portion of our bequest to go toward outreach," says Gail. "We want to spark creativity and interest in the performing arts for school age children, to diversify the audience."
This dedication to introducing the next generation to the arts runs deep in the Wilensky family. They have five grandchildren, and Gail takes their three oldest granddaughters, ages 14, 16, and 20, to see plays, ballets, operas, and classical concerts in Washington and New York City, making stops at museums to enjoy the visual arts as well. "The hope is that, when they get to a point in their lives when they have discretionary time and funds, that the arts will be part of their discretionary spending. We're fortunate to feel that we can set aside funding for their education, but it's important to help the institutions that have given us so much as adults."
While they only began thinking of serious estate planning last year, the Wilenskys are pleased to be able to support the NSO and WNO through planned gifts. As Gail puts it, "We're able to get as much pleasure from this knowledge as anyone on the receiving end."