Meet Our Donors
Bill Turner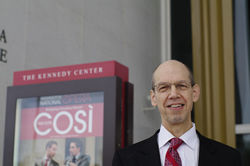 The first thing you'll notice about Bill Turner is his height. But once you get to know him you'll realize that the biggest thing about him is really his heart. "There is nothing I won't do for the Kennedy Center. When I volunteer, I do it without conditions." Not only has Bill volunteered as a tour guide and area leader for Kennedy Center festivals since 1988, but he is also a subscriber, donor, patron, usher, and general Kennedy Center enthusiast. You'll find him, resplendent in his red jacket, directing guests outside the Box Office on Thursday evenings or at the Eisenhower Theater taking your ticket at several weekend performances.
Chat with Bill about your favorite performances, and he may share his favorites with you. When he loves a show, he can't see it enough. A Washington National Opera subscriber since 1988, Bill saw Porgy and Bess on his subscription and loved it so much that he signed up to usher at the Opera House several more times so he could see it again. He's seen August Osage County about 15 times; when A Few Good Men premiered at the Kennedy Center in 1989, he marveled at the daily changes made by playwright Aaron Sorkin during previews. One of the biggest thrills of Bill's life was being a supernumerary in both La Bohème and Götterdämmerung. He especially loves opera for the completeness of the experience--the passion, music, costumes, and theatrics.
Bill is "a child of Foggy Bottom." He was born at George Washington University Hospital to parents who met at GWU, and he grew up listening to his father play classical music and showtunes on their grand piano. Bill remembers enjoying family outings to the original "Watergate" (before the Watergate building existed), where they sat on the stairs under the Lincoln Memorial and watched the National Symphony Orchestra perform on a barge on the Potomac River. He also remembers the excitement of being taken as a child to see the first production of South Pacific on Broadway and The Nutcracker at Constitution Hall.
A former English professor with a Ph.D. in English (West Virginia University), an M.S. in Library and Information Science (Catholic University), and a B.A. in English (Davis & Elkins College), Bill has returned to his Foggy Bottom roots by working at the West End D.C. Public Library, where he runs a monthly book club. But the Kennedy Center and the Library are not his only passions--in 2010 he won the Volunteer of the Year Award from Miriam's Kitchen (where he regularly serves breakfast) for his program bringing life skills and arts therapy to the homeless through short stories.
About his dedication to the Center Bill says, "Everyone comes to the Kennedy Center sooner or later." He sees old classmates, family friends, clients from Miriam's Kitchen, former students, regular patrons, and newcomers in town for tours and performances and loves to share his enthusiasm with all of them. "The Kennedy Center is not just any institution--it serves as a place for the spirit. When I have a tough day at work I come to the Kennedy Center, and right away my spirits are lifted and I feel reenergized," he explains.
In addition to his annual gift, Bill has designated a percentage of his revocable trust for the Kennedy Center. Planning this bequest was important to him because "I want to leave a legacy that reflects my values and beliefs." He likes to paraphrase President John F. Kennedy by saying, "Ask not what the Kennedy Center can do for you; ask what you can do for the Kennedy Center." We are awed by the many ways in which Bill Turner supports the performing arts at the Kennedy Center. He is generous with his time, his money, and his heart. Thank you, Bill!