Meet Our Donors
Francis H. Rasmus, Jr.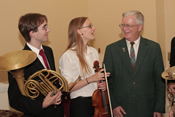 Frank Rasmus with NSO Summer Music Institute musicians. Photo by Carol Pratt
Having shared in the joys of the performing arts with his family throughout his life, Francis H. Rasmus, Jr. recently established an endowment at the Kennedy Center to celebrate the memory of his parents, Mary and Francis Rasmus, Sr. Not only has he set up more than one charitable gift annuity with the Center, he has also named the Kennedy Center partial beneficiary of several IRAs.
The most amazing thing about his extraordinary generosity is that Frank earned a middle income salary. He receives great joy from his philanthropy. Since his retirement, he spends most of his time helping the institutions he loves while building his own financial security. He currently has dozens of charitable gift annuities ("CGAs") with many different organizations set up to provide income, not just for himself, but also for relatives.
Frank points out that while he has guaranteed tax-advantaged payments for life, after he dies, "the charities will benefit from the residuum instead of an insurance company". One of his favorite sayings is "You can't take it with you!"