Meet Our Donors
Patricia Morton: "Wherever I am, my spirit demands culture"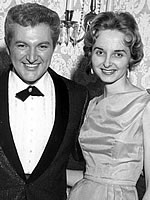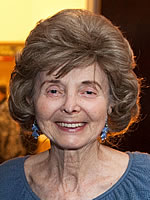 Liberace and Patricia Morton, At the 2010 Roger L. Stevens Society Lunch
Patricia Morton's life story is a tale of adventure, travel and commitment to the performing arts. Her mother was a teacher and exposed her to the arts from an early age. Even her birthplace seems to have set Patricia up for a life in the arts: "I was born in the same town as Merce Cunningham, Centralia, Washington", she likes to say. She often remembers events in relation to performances she saw and artists she liked. Her father and brother were sports lovers and always had the radio tuned to a game. If she wanted to hear music, Patricia had to make it herself: she became an accomplished pianist and thrived in a family of singers and artists.
After earning a B.A. in Economics, Patricia became a speech writer for then Governor of Washington, Albert Rosellini which gave her access to all sorts of performing artists. But the world beckoned, and soon she was positioned with the State Department in locations both exotic and glamorous. No matter where Patricia went, she connected with the countries and their people by soaking up local performing arts, architecture and museums. For her first assignment with the State Department, she had a choice: Paris or Nepal. A lover of mountain climbing from her childhood near Mount Rainier and Mount St. Helens, Patricia agreed to go to Nepal – but only if they would ship her beloved little blue convertible Triumph over. They finally agreed even though Katmandu hardly had any paved roads! She became famous for her car and even Royal Family members had their mechanics create new windshield wipers for it. "I never had problems with parts", she says with a smile.
Patricia Morton in front of the American Embassy in Nepal
From Nepal, she went on to postings in Singapore, Zaire, the Cameroon, Vietnam, the Netherlands and extensive working trips to South and Central America. At one point she was delighted to be assigned the night shift from midnight to 6am which allowed her to spend the day studying the city architecture and attending performances!
When she settled back in Washington DC, she chose an apartment in between the State Department and the Kennedy Center. In the early days, Patricia was the go-to person to give tours of the Kennedy Center to dignitaries and visiting officials. One day, after returning from the Netherlands, she noticed the Kennedy Center tulip beds were not looking their best. She asked if she might do some weeding and was told she'd first have to become an official volunteer. Thankfully she did, and Patricia is now well known at Center as one of the most dedicated volunteers helping out in many different departments. She is also a frequent audience member. Her international travels have given her an appreciation of the Kennedy Center's international festivals in particular. "We have to reach out to people. We need to open our minds. The festivals expose us to the creativity of other cultures."
Patricia has included a percentage of her residual estate for the Kennedy Center as one of the many organizations she cares about. She also knows that her IRA is the most tax efficient gift she can give to a non-profit organization. About her commitment to the Kennedy Center, Patricia says, "It doesn't matter what I did yesterday, but it's important what I do today or tomorrow." The Kennedy Center is so grateful for people like Patricia Morton who know their gifts will leave a lasting legacy that will allow the Center to continue presenting the finest performances and introducing future generations to a positive way of connecting people around the world – the arts.