Meet Our Donors
Dana Hearn and Kevin McCloskey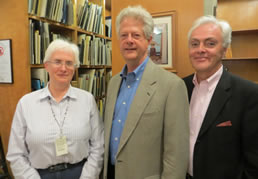 Although they live 75 miles away in "Little" Washington, Virginia, Dana Hearn and Kevin McCloskey feel every trip they make to the Kennedy Center is worth it. "Just entering the building is like being in a cathedral" says Kevin. Their visits provide them with a tranquil sense of calm and grounding; and when they hear a piece of interesting or beautiful music, they are literally transported to a peaceful place. When asked what piece in particular inspires these feelings, they both agree on Sergei Rachmaninov's Piano Concerto No. 2. While their main love is classical music, and they happily subscribe to the National Symphony Orchestra, Kevin also introduced Dana to ballet which he now enjoys and they frequent the theater as well.
Over the years, Kevin and Dana increased their annual membership level to Producer's Circle, enabling them to attend events such as cast parties, Insider Events and backstage tours. "Everyone at the Kennedy Center makes us feel so welcome".
During a backstage tour of the Concert Hall they were particularly impressed by Marcia Farabee, the Principal Librarian of the National Symphony Orchestra, who talked about the many facets of her job. They had never thought about the intricacies and expense of getting the actual music on stands in front of musicians. Learning about the process gave them a whole new appreciation of how a symphony orchestra operates. "Before we use to come to a concert and just enjoy the music. Now we can appreciate the complexity of putting on a performance."
In the past, Kevin would read about planned giving and think "That doesn't apply to me. I don't have an 'estate'." But now he realizes that no matter what you have, it's important to decide who or what organization benefits from it rather than letting the state decide. A retired elementary school teacher of 40 years, Kevin decided to designate his bequest to the Kennedy Center education programs which will help provide amazing programs to millions of young people each year.
When thinking about their estate plans, Dana asked himself "What has given me some of the greatest joy in life? His answer: "The Kennedy Center!" He was so impressed by Marcia Farabee's talk during the backstage tour that he wants his future gift to be used for the NSO library. Dana says "I hope it comes across that the gift to the Kennedy Center is important to us and it can be important to others who may not have considered it before." 
The Kennedy Center is very fortunate to have such committed patrons as Dana and Kevin. We are deeply grateful for their support and enthusiasm.