Meet Our Donors
Cathy and Mike Mayton
Philanthropists Cathy and Mike Mayton Make Estate-Plan Gift in Thanks for the Kennedy Center "Family"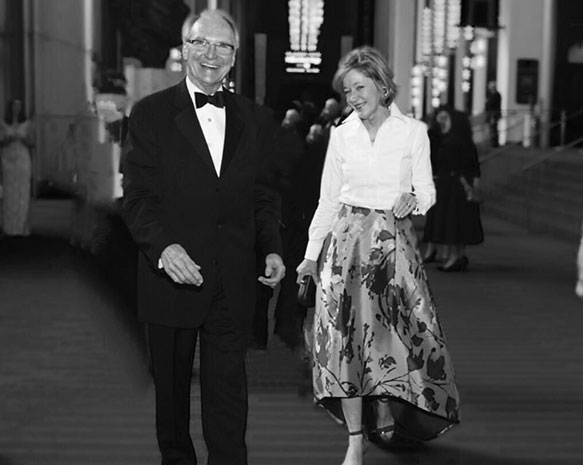 Cathy and Mike Mayton are two of the nicest people you will ever meet. Born and raised in Arkansas, Mike is from the small town of Taylor and Cathy is a native of Little Rock, where the couple continues to reside.
The pair radiates warmth and humor. It is evident when you talk to them, they get a great deal of enjoyment from contributing to the various communities of which they are a part.
A graduate of Randolph-Macon Woman's College, Cathy retired four years ago. Her background is in nonprofit development, primarily in healthcare and K-12 education. Cathy's wealth of knowledge aids the couple's charitable decisions, evidenced by the thoughtfulness with which she discusses their philanthropy. "I have learned it is all about the relationship with the donor. The size of the gift is not important. One gift can create a ripple effect," she says.
Mike, who obtained his JD at the University of Arkansas School of Law where he was Associate Editor of the Arkansas Law Review, is an attorney in Little Rock. He has served twice as Special Chief Justice of the Arkansas Supreme Court by appointment of the Governor in 1995 and 2007. However, he is more interested in talking about his community involvement than his impressive career. In addition to his deep involvement in the Little Rock and wider Arkansas community, Mike has served as Chairman of the National Symphony Orchestra National Trustees and in May of 2018 was elected Chair of Audience Development for the National Symphony Orchestra Board. He and Cathy are members of the Kennedy Center International Committee for the Arts and in 2016, Cathy and Mike co-chaired the NSO Season Opening Gala.
Mike credits Jeanne Ruesch, Chairman of the National Symphony Orchestra Board, for her thoughtful leadership and mentorship over the years. "I admire her very much," he says. "Cathy and I have gained information and knowledge from Jeanne and our involvement with the NSO and the Kennedy Center that has been invaluable in our work at home in Arkansas."
Together Cathy and Mike serve as Trustees of the Stella Boyle Smith Trust and are tasked to not only consider their own legacy, but to honor her life as well. A well-known Little Rock philanthropist, Stella Boyle Smith noticed an artistic void in the community and started the Arkansas Symphony Orchestra in her living room. Throughout her lifetime, she made an indelible mark on the greater state through her staunch advocacy of the arts, education and healthcare.
The values Stella Boyle Smith expressed during her century-long lifetime are evident in all the philanthropic choices the Maytons make as stewards of her legacy.
"It is not about us," says Cathy, "it is all about Stella and it is our job to keep her name and legacy alive."
When asked what artists in particular inspire the couple, Mike immediately shares Florence Price, the Little Rock-born composer and first African-American woman to have a composition performed by a major symphony orchestra. The Maytons constantly seek to promote diversity and inclusion in their work.
When they began thinking about their own legacy, the decision of the Maytons was simple. "We have never had another group engage us like the Kennedy Center," Mayton says. "This is family for us," Cathy agrees. The couple is particularly inspired by the NSO's Summer Music Institute, leading them to direct part of their significant legacy gift to the program, to help provide opportunities for emerging artists. Mayton encourages anyone and everyone to consider a legacy gift. "It is the easiest gift you can make and the most meaningful," he says.
The Kennedy Center and the National Symphony Orchestra send our gratitude to Cathy and Mike Mayton for the many ways in which they uplift and advocate for our work. We are honored to consider them part of our family, as they consider us part of theirs.