Meet Our Donors
Alma and Ambassador Joseph Gildenhorn
Gildenhorns Add Gift in Will Because "Nothing Has Enriched Our Lives More" Than Center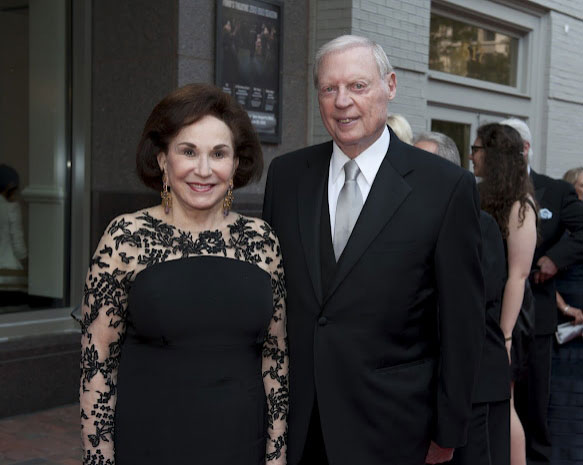 From the moment the building first opened in 1971, Alma and Ambassador Joseph Gildenhorn have been deeply involved in the Kennedy Center. Over the ensuing 45 years the two have viewed the Kennedy Center as a second home.
Alma, who was appointed to the board of trustees by President Reagan in 1986, continues to serve on the board as one of only six honorary trustees. In 1989 they had the opportunity to introduce audiences abroad to the Kennedy Center when Joe was appointed U.S. Ambassador to Switzerland. Alma frequently spoke to women's groups in Switzerland about the arts and enjoyed playing tapes of the Kennedy Center Honors. "We love to give back," they both agree. They strongly believe in the importance of including the Kennedy Center in their estate planning, which they have done through a bequest in their wills, because it "allows the institution to plan for and look forward to the future." They want to ensure generations to come are able to enjoy the performances and programming that have enriched their lives because "lifelong affection for the Kennedy Center brings you lifelong joy."
Alma credits her upbringing with encouraging her deep love of the arts and community. Growing up, she learned to play the piano by ear and frequently attended concerts and visited art galleries with her mother. "The arts have always been a great personal enjoyment," she says. Alma and Joe met at the University of Maryland. Joe then went to Yale Law School and served in the Army for several years afterwards. The couple settled in the Washington, D.C. area, and Joe co-founded JBG Companies, which became a leading real estate investment and management firm. Meanwhile, Alma became a leader in the greater D.C. community as an activist and volunteer. She was particularly attracted to work that fostered community building. Though they have been involved in many organizations, the Kennedy Center has always occupied a special place in their hearts.
As they raised their family, it gave Alma and Joe great pleasure to introduce their children, and later their grandchildren, to the Kennedy Center community. Always an invaluable advocate of the Center's work, Alma helped form the endowment committee with founding Chairman Roger L. Stevens. From 1995 to April of 1996, she served as interim chair of the board. "I have always felt that the establishment of the Kennedy Center as our national performing arts center in the nation's capital put the spotlight on Washington and elevated and enhanced the disciplines of all the performing arts in our nation and the world," Alma says. She and Joe agree that "nothing has enriched our lives more than the Kennedy Center."
The Center is so grateful to Alma and Joseph Gildenhorn and the Gildenhorn family for the many ways in which they support Washington, the performing arts, and the Kennedy Center.