Meet Our Donors
Bob and Jamie Craft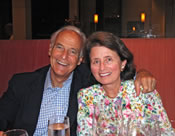 Robert and Jamie Craft at their son's celebrated restaurant, Niche, in St. Louis
Robert H. Craft and his wife, Jamie have such enthusiasm for opera, ballet and the performing arts that they sparkle with excitement when remembering the performances they've seen. Not only can they recall the name of the opera or ballet, they also remember the performers and the conductor, as well as where and when the performance took place. It's almost as if they mark events in their lives by the definitive performances they saw. They laud the heart-stoppingly beautiful performances they've seen from Diana Vishneva dancing Giselle with the Mariinsky Ballet to Plácido Domingo and Anja Kampe performing Die Walküre with Washington National Opera.
Since arriving in Washington DC in 1975, they have been regulars at the Kennedy Center, attending a wide variety of performances, but reserve a special place in their hearts for Washington National Opera productions. Jamie was a founding member of the Women's Committee of the Opera in 1976; Bob joined the WNO Board in 1980, serving as General Counsel for the majority of his term, and as President for 4 years.
Bob's love of opera began when a family friend advised him to broaden his course choices as a Princeton University sophomore. He decided to take "A History of Opera" and "Italian Painting of the Renaissance". He calls them "life-changing courses". As managing partner of the Washington office during a distinguished career at Sullivan & Cromwell LLP, he was asked to choose the art for the Washington DC office. He relished the task of putting together a thoughtful collection of Washington-themed art, and Jamie put her antiques expertise to use by sourcing some of the American folk art.
Bob and Jamie met at a wedding, where he swept her off her feet - just as she was about to marry someone else! Early on, he took her to see Mefistofele at the New York City Opera, one of the great productions that people still talk about today. There, they began a lifelong love of attending performances together. Jamie says she was a "willing convert" and raves about the thrill of seeing a daring performer who keeps you on the edge of your seat.
They are thrilled about the upcoming WNO and Kennedy Center affiliation, and look forward to the future of the Opera under Michael Kaiser's care. They got to know and admire the Kennedy Center's current president when he joined the Board of what was then The Washington Opera in 1983. They feel that his business knowledge along with his love for opera will be important assets.
About 10 years ago, they decided they wanted to support the long-range plans of the Opera. They added a bequest into their wills, and were subsequently asked to become the Founding Patrons of Washington National Opera's Legacy Society. They have since graciously and enthusiastically filled this role, and continue to host an annual tea for WNO Legacy Society members. "Of course, our children and grandchildren will always be the priority, but we feel it's important to support the performances too, so they will be here for our grandchildren and for generations to come." Jamie believes "Everyone needs art in their lives". Bob adds "It's what keeps a community vibrant".